Business Continuity, SageCONNECT

Top Drivers and Challenges of SD-WAN Adoption in 2021
The software-defined WAN (SD-WAN) market was already growing rapidly before the COVID-19 pandemic. Then the almost overnight shift to remote work caused it to explode. Although the market saw a slight slowdown in the first half of 2020 due to economic challenges and supply chain disruptions, it quickly picked up pace. A recent report from Futuriom forecasts a compound annual growth rate of 34 percent through 2023.
According to Futuriom's fourth annual SD-WAN Infrastructure Growth report, a whopping 92 percent of organizations are evaluating SD-WAN solutions. The need for secure Internet connectivity for remote workers and branch locations is a primary driver of SD-WAN adoption. Additionally, organizations are looking to streamline cloud access, improve application performance, and increase WAN agility and manageability.
However, a number of challenges are preventing organizations from taking advantage of SD-WAN. Concerns about security, Quality of Service (QoS) and the user experience top the list. Many organizations also lack the technical skills needed to implement and manage SD-WAN solutions.
How SD-WAN Meets Today's Business Requirements
SD-WAN adds a software layer that abstracts the physical WAN infrastructure, making it possible it possible to combine multiple WAN connections and intelligently route traffic according to real-time conditions. Organizations can utilize cost-efficient broadband links in lieu of expensive MPLS services.
Best-in-class SD-WAN solutions also virtualize other network and security services, delivering them through software. This further enhances flexibility, simplifies management, increases automation and reduces the number of appliances needed at each location.
These capabilities support today's business requirements in a number of ways. SD-WAN secures remote workers' connections with end-to-end encryption and other controls. WAN optimization and traffic steering features help ensure the performance of cloud-based services and latency-sensitive applications such as video conferencing. Centralized management provides the visibility IT teams need to ensure a high-quality user experience across the extended enterprise.
But insufficient expertise remains a significant stumbling block to SD-WAN adoption. Many organizations are reluctant to implement any technology that their IT staff is ill-equipped to administer long-term. Additionally, IT teams that are accustomed to traditional telecom services may not want to take on the management burden of a heterogeneous network.
Benefits of a Fully Managed Solution
A fully managed SD-WAN solution can help organizations reap all the benefits of SD-WAN without the headaches. The solution provider is responsible for delivering highly reliable connectivity for all branch offices and remote users. Depending on the customer's business needs, the WAN might include cable, fiber-optic, cellular, satellite and MPLS services to ensure reliability and the broadest possible coverage. Automatic link selection can route traffic over the best available path when the primary WAN degrades.
The right SD-WAN solution will also incorporate managed next-generation firewall and intrusion prevention services to protect applications and data from malware and other threats. Virtual private network capabilities are delivered via a responsive overlay to secure remote connections while providing a better overall user experience.
Automated path selection prioritizes mission-critical applications to help ensure QoS. Per-packet load balancing combines two overlay tunnels to maximize network capacity. WAN path remediation uses forward error correction to enhance the reliability and performance of voice and video services and other latency-sensitive applications.
SageNet delivers a fully managed SD-WAN as part of its SageCONNECT solutions and services. It is offered as an a la carte suite of capabilities that are packaged to meet each customer's specific business needs. Zero-touch deployment and 24×7 monitoring and support ensure rapid time-to-value and long-term success. Let us help you gain the flexibility, efficiency, availability and security your remote users and branch locations require.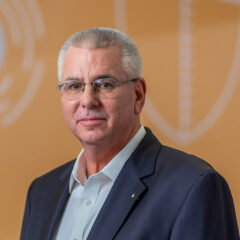 John Meek
Chief Operating Officer
I'm accustomed to looking at a system and all its working parts, and using that observation to see potential impacts from one layer to another, or one project to another.
Get to know John
Interested in what our experts had to say?
Learn more about our services - all driven by the changing technology landscape.