Business Continuity, SageCONNECT


Why Satellite Connectivity Is a Great Choice for SCADA Applications
Supervisory Control and Data Acquisition (SCADA) systems continue to play an important role in the operation of large, complex systems deployed across broad geographic areas. The oil and gas industry offers a prime example of a SCADA use case. SCADA allows oil and gas firms to monitor pipelines and other infrastructure, and to link assets in the field with back-office applications.
SCADA systems collect and analyze data from sensors and automatically trigger specific actions and alerts — for example, if equipment isn't performing optimally. They also provide a human-machine interface (HMI) that gives operators visibility into the status of the system and enables the performance maintenance and management tasks.
As a result, SCADA systems enable organizations to:
Lower operational costs through preventive maintenance
Reduce downtime through rapid fault detection and response
Minimize routine and emergency visits to remote sites
Optimize operational efficiency through improved decision-making
While SCADA systems might use point-to-point radio or other wireless protocols for communication between components, IP network connectivity is needed for communication with remote users and applications. The protection of the critical infrastructure supported by SCADA systems is crucial. Satellite communication provides a private and secure, highly available and cost-efficient network solution.
Choosing the Right Satellite Solution for SCADA
There are two primary satellite connectivity options — VSAT (very small aperture terminal) and BGAN (broadband global area network). The choice depends upon the volume of data to be transmitted, performance requirements and the availability of power at the site.
VSAT services provide both low and very high bandwidth for use cases such as remote device configuration and video surveillance. They also offer high performance, with peak upload speeds of 2Mbps and download speeds of up to 6Mbps. Quality of Service (QoS) technology supports real-time applications such as Voice over IP (VoIP) and video streaming alongside data transmissions. SageNet's VSAT services are available to all 50 states, Canada and the Virgin Islands.
BGAN satellite solutions can be a good choice for applications with midrange data transmission requirements where low power consumption is critical. BGAN terminals consume less than 1W on standby and 20W during transmission, making them suitable for environments that rely upon solar power. BGAN connectivity is considerably more expensive per megabyte than VSAT, but BGAN offers greater coverage in a single, global network operated by Inmarsat. BGAN can also be used as a backup to the VSAT connection.
SageNet's Satellite Connectivity Options
SageNet has developed a suite of prepackaged VSAT services that are optimized to deliver top performance for mission-critical applications. SageNet's VSAT services deliver some of the best SLAs in satellite communications, including the industry's only "Minimum Assured Speed" guarantee.
SageNet also offers a full range of BGAN solutions for fixed-location, portable and Comms-on-the-Move (COTM) applications. SageNet's BGAN services provide simultaneous voice and broadband data connectivity at speeds up to 492kbps, with public and private network options depending upon your security requirements.
Phillips 66 recently selected SageNet to upgrade and expand the SCADA satellite network that serves more than 700 Phillips 66 locations throughout the United States. The network is used to monitor Phillips 66's pipeline and assets, including more than 12,000 miles of operated pipelines and 64 terminal locations. Let us help you select and implement the right satellite solution for your SCADA application.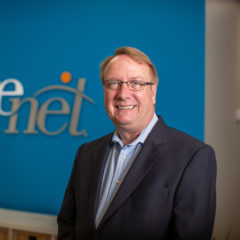 Scott Hutchinson
Director of Satellite Services
Companies are using VSAT technology in all kinds of ways. That's the exciting part of our focus right now – finding new markets and opportunities where satellite can be a benefit.
Get to know Scott

Interested in what our experts had to say?
Learn more about our services - all driven by the changing technology landscape.