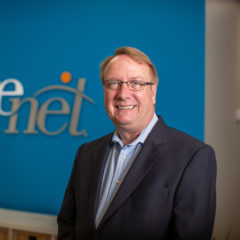 Director of Satellite Services
"Companies are using VSAT technology in all kinds of ways. That's the exciting part of our focus right now – finding new markets and opportunities where satellite can be a benefit."
Scott Hutchinson is one of those rare experts who knows the satellite world from the customer side as well as the operations side. He has worked closely with clients to oversee proof of concepts and coordinate pre- and post-sales network support in addition to his work on sales engineering and his extensive experience managing hub installation and operations teams.
Previous Experience
Spacenet
Scott joined Spacenet's satellite operations center as a network controller in 1985. He served in several capacities in the company's VSAT network services division, building out networks and servicing satellite hubs and networks. Prior to Scott's current role he served as Director, Network Operations responsible for the company's data centers and VSAT hubs. Spacenet merged with SageNet in 2014.
U.S. Air Force
Scott began his work in satellite communications with the U.S. Air Force in 1981, doing operations and maintenance of satellite terminals.
Topics Scott can speak on
Any topics regarding VSAT technology
Overcoming effects of latency on satellite systems
How satellite systems work in different environments
New trends and business opportunities for satellite use (network backup, multicast delivery system, etc.)
How to mitigate "rain fade" in satellite systems
We're passionate about Trusted Connections.
Learn more about our vision, mission, & core values.