SageVIEW, SageVIEW Services
Hands Free: The Value of Touchless Signage Technology


In an increasingly health-conscious world, more organizations are taking a "hands-off" approach to digital signage — replacing or retrofitting displays to support the touchless interactions their customers now favor.
Since the pandemic's onset, retail stores, hotels, restaurants and other businesses have taken steps to provide consumers with more hygienic contactless signage options, and those efforts are paying off. According to a recent Capgemini survey of nearly 5,000 consumers in 12 countries, 77 percent said they had increased their use of touchless technologies over the past two years, and 62 percent said they expect to continue doing so going forward.
Digital signs incorporating touchless interfaces such as facial, gesture and voice recognition give businesses numerous ways to enhance the customer experience. For example, restaurants can provide contactless menus and ordering options. Airports and other businesses with large campuses use scan-to-mobile technologies that allow users to access interactive maps from their phones. The same technology can be used to scan corporate directories to mobile phones without adding another app to the device.
Becoming Touchless
From a business perspective, these technologies demonstrate an understanding of customer health and safety concerns, which only help build brand loyalty and increased sales. Additionally, the ability to seamlessly shift signage functionality to a customer's phone extends the company's marketing footprint and helps create one-to-one relationships with customers.
Key technologies for making signage touchless include:
QR codes: Like barcodes, QR codes can direct users to download an app or visit a website when scanned. An added benefit is that they are compatible with any smartphone, eliminating the need for any app development. Restaurants commonly use them to provide diners with access to contactless menus, but more organizations are incorporating them into their signage so customers can link to their home page, social media sites and other digital resources.
NFC and RFID: Near-field communication and radio-frequency identification both use radio frequency signals to move data between devices, and they are frequently used in contactless payment systems. Both can also be incorporated into signage, allowing customers to download coupons, log in to rewards programs, search for products and access information about price, availability and other details. Businesses can also use the technology to collect customer data and marketing analytics.
Gesture recognition: AI-powered sensors allow more immersive, contactless interactions. Proximity sensors detect when someone is nearby, and integrated cameras capture images of the person's gestures such as swiping, scrolling, rotating, pinching or tapping. Software then matches the images against a prepopulated gesture library. Once the system interprets the gesture, it executes a command to perform the action associated with that gesture.
Touchless sensing: This technology is most commonly seen in public restrooms with touchless faucets, toilets, towel dispensers and hand dryers. It's the use of affordable proximity sensors to detect movement. This technology can be used to convert existing displays into touchless displays by replacing standard push buttons with proximity sensors.
Voice activation: Speech recognition software enables customers to verbally interact with digital signage in much the same way we use digital assistants such as Amazon Alexa and Apple Siri. "Wake words" trigger the software to open, then customers use voice commands to play on-screen content or ask questions.
The increased use of touchless technologies has helped companies in all industries address customer health concerns, but the benefits don't stop there. These solutions not only improve the customer experience, but help businesses extend their marketing reach and gather new insights into customer behavior. Contact us to learn more about making your signage environment touchless.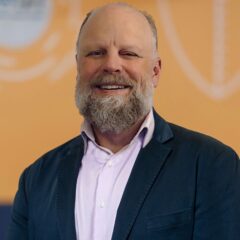 IV Dickson
Chief Innovation Officer
With digital signage, it's important to begin with the end in mind, then address each phase of the digital signage ecosystem – and lifecycle – to achieve the network operator's goals. Understanding the motivations for an organization makes it possible to pair them with the right technology at the right time.
Get to know IV
Interested in what our experts had to say?
Learn more about our services - all driven by the changing technology landscape.