Create a More Interactive Retail Experience with Digital Signage


The hub of life in ancient Greek cities were the agoras, open-air marketplaces where merchants set up stalls or shops to sell food, clothing, pottery and other goods. The agoras also served as showplaces for theatrical, musical and gymnastic performances. Thus began a close relationship between commerce and entertainment that has persisted for centuries.
In recent years, this relationship has come to be known as "retailtainment" — a portmanteau of retail and entertainment. Sociologist George Ritzer coined the phrase in 1999, describing it as the "use of ambiance, emotion, sound and activity to get customers interested in the merchandise and in a mood to buy."
More recently, retailers are leveraging technology to create retailtainment experiences that bridge the gap between online and offline settings. Interactive digital signage solutions play a central role in this trend.
The latest digital signage displays support a variety of advanced technologies such as motion sensors, gesture recognition,  voice interfaces and QR codes, allowing users to interact with the display in a variety of ways. Interactive content such as videos, games, quizzes and product demos can draw customers in and keep them engaged for longer periods of time.
The use of interactive displays in the retail sector is among the market's major growth drivers. According to recent analysis from Grand View Research, the global market for interactive displays will be worth more than $75 billion by 2030. The retail segment is expected to achieve the fastest growth, seeing a compound annual growth rate of 9.1 percent throughout the forecast period.
Here are some of the key benefits interactive displays produce for retailers:
An Enhanced Customer Experience
Allowing customers to touch, swipe or interact with the screen can create a more immersive and memorable shopping experience, allowing shoppers to pull up real-time product information, personalized recommendations and immersive visuals. Gamification ups the entertainment factor as well. By transforming routine activities into interactive challenges or games, these displays encourage shoppers to explore the store, interact with products and participate in enjoyable activities. Fun gamification features such as points, rewards and leaderboards drive increased foot traffic and longer dwell times and help encourage return visits.
Optimized Store Space
Interactive displays can help retailers efficiently utilize limited square footage. By consolidating a diverse range of product information, virtual catalogs and promotional content within a single interactive platform, these displays eliminate the need for excessive physical shelving and signage. This streamlined approach frees up valuable floor space, creating a more open, uncluttered and visually appealing store layout.
Reduced Wait Times
When strategically placed in areas with high foot traffic, interactive displays reduce perceived wait times. Entertaining content, personalized recommendations, immersive experiences and informative displays divert customers' attention and create a sense of engagement that makes the wait feel shorter and more enjoyable. In addition to enhancing customer satisfaction, this allows retailers to deliver promotional messages that encourage additional purchases.
Data Collection and Analytics
Interactive displays can collect valuable customer information, including data on preferences, interactions, dwell time and traffic patterns. Retailers can analyze this data to gain insights into customer preferences and shopping patterns, and to enable data-driven decisions about store layout, inventory management and marketing strategies.
Conclusion
Merchants have been seeking new ways to engage, entertain and inform customers for centuries, but interactive displays take "retailtainment" to a whole new level. With the ability to captivate customers with personalized content, virtual experiences and gamified interactions, these displays can help retailers forge memorable connections between shoppers and the brand. Contact us to learn more about leveraging your signage solution to transform the retail shopping experience.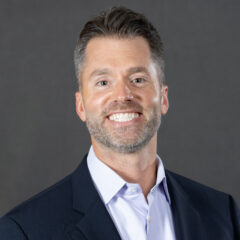 Matt Pittsford
Sr. Director, Account Management
Aligning your in-store marketing with web and mobile can be tough in retail, whether you're a restaurant or specialty retail store. But the goal is to create a better in-store digital experience for your customer. Digital signage is a great way to stay relevant and engage with customers in your retail stores. From a beautiful high-definition TV to a large touchscreen. That's the great thing about SageNet – we can help all our customers see positive results, whether it's through in-store digital engagement or the latest in digital signage menu boards and analytics into customer insights.
Get to know Matt
Interested in what our experts had to say?
Learn more about our services - all driven by the changing technology landscape.