Digital Innovations Revolutionize the Drive-Thru Window


Drive-thru windows are found at the vast majority of U.S. quick-service restaurants for good reason — we're addicted to the fast and easy service. Whether grabbing a quick breakfast or a road-trip burger, Americans eat an estimated 20 percent of their meals in their cars. Researchers say drive-thru sales generate as much as 75 percent of the QSR industry's $600 billion in annual revenues.
Although drive-thru service has been a fairly standard feature of the QSR industry since the 1940s, technology enhancements are now enabling a decidedly 21st-century experience. Digital menu boards, in particular, enable a wide range of capabilities that allow QSRs to reduce operating costs, increase sales, streamline operations and deliver a better customer experience.
The digital drive-thru experience is so efficient that traditional fast-casual and sit-down restaurants such as Applebee's, Panera Bread, Domino's Pizza and Sweetgreen have begun adding drive-thru windows to some stores. Meanwhile, many traditional QSRs are adding multiple drive-thru lanes to speed service. Others, including Taco Bell and Jack-in-the-Box, are opening drive-thru-only locations with no seating areas.
Here are some of the ways technology is reshaping the drive-thru experience:
Even Quicker Service
Digital menu boards simplify and streamline operations in several ways. Unlike traditional printed menu boards, digital signage can be easily updated. With a few simple taps, staff can effortlessly update menu items, adjust pricing or add time-sensitive promotions and discounts. Eliminating manual updating tasks saves time, reduces labor costs and speeds service. A 2021 survey found that, on average, QSRs with digital menu boards in the drive-thru completed orders 9.2 percent faster than locations with static, printed menu boards. Faster service means more total customers and increased revenues.
Information and Customization
Dynamic content creation enables a far more informative menu. You can provide customers with high-resolution images of each dish, along with detailed descriptions, seasonal ingredients and nutritional information. Touch-screen displays even allow customers to easily modify orders to accommodate dietary restrictions, add or remove ingredients and select portion sizes. Digital menu boards can also display order confirmation information so customers can verify accuracy. This eliminates waste and reduces time waiting in the drive-thru for the order to be corrected.
Smart Integration
Digital menu boards can be integrated with point-of-sale (POS) systems, which creates seamless communication between the menu board and the order processing system. Once customers place an order, the menu board immediately communicates with the POS system, reducing order errors and minimizing wait times. The integration streamlines the entire ordering process, allowing for faster service and increased customer satisfaction. It also enables real-time inventory management and automatic updates when items are sold out.
Better Insights
Digital boards can also be integrated with a variety of applications, including advanced analytics apps that can capture and analyze data from different sources. Such analysis can be used to track customer preferences, evaluate menu items, identify sales patterns and measure the effectiveness of promotions and specials. This data-driven approach helps restaurants make informed business decisions, refine their menus and optimize their operations.
AI and Automation
QSR operators are excited about the possibilities for artificial intelligence (AI) and natural language processing (NLP) at the drive-thru. Menu boards with upgraded speaker systems can be linked with AI-powered digital assistants like Siri or Alexa to improve order accuracy and efficiency. Using voice recognition technology, these systems can understand multiple accents and dialects and even filter out background noise. AI algorithms can also analyze a customer's order history and preferences to provide personalized recommendations.
SageNet helps customers evaluate, implement and manage the state-of-the-art displays that enable such innovations. Contact us to learn more about our SageVIEW digital signage ecosystem.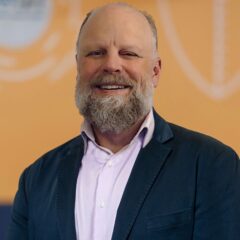 IV Dickson
Chief Innovation Officer
With digital signage, it's important to begin with the end in mind, then address each phase of the digital signage ecosystem – and lifecycle – to achieve the network operator's goals. Understanding the motivations for an organization makes it possible to pair them with the right technology at the right time.
Get to know IV
Interested in what our experts had to say?
Learn more about our services - all driven by the changing technology landscape.