SageVIEW, SageVIEW Services
6 Reasons to Invest in Enterprise-Grade Digital Signage


Digital signage is becoming a must-have technology in a variety of industries. Driven by increased adoption in the retail, hospitality, transportation, healthcare and financial services environments, the global market size is anticipated to reach $38.23 billion by 2028, according to a new report from Grand View Research, Inc.
Not all signage solutions are created equal, however.
It's possible to set up digital signage for just a few hundred dollars by plugging a USB media stick into a television. That doesn't mean you should, though. Such solutions usually turn out to be more trouble than they're worth.
Bare-bones signage setups have numerous shortcomings. In addition to performance and storage limitations, they don't support a wide range of image and video formats. It is really easy for someone to tamper with them. But most importantly, this solution is unlikely to be available on the network, which requires manual intervention for content changes.
Enterprise-grade solutions have no such limitations, allowing businesses to deploy a network of reliable, flexible, and dynamic signage solutions that will attract customers and increase sales.  Here are several key features you can expect to find in a business-grade solution:
Scalability
Enterprise solutions make extending signage to new locations a fairly straightforward process — you simply need to add new screens and media players to your new locations. Centralized content and screen management features allow you to deploy applications, apply updates and set permissions for all screens and hardware from a single management dashboard.
Better Content
Instead of manually loading new content with a USB stick, enterprise-grade solutions use integrated content management systems for customizing, scheduling, monitoring, and deploying messages over an entire network of displays. You can quickly update, modify, and rotate messaging using a variety of audio, video, image, and text formats.
Extensibility
Unlike entry-level solutions with limited feature sets, enterprise systems can integrate with a wide range of applications and data sources through the use of application programming interfaces (APIs). You can use APIs to link signage systems with databases, enterprise software, photo editing and content creation applications, multimedia newsfeeds, social media platforms, and more.
Manageability
Large organizations often need to allow multiple user groups to create custom content and control certain displays throughout the network. Managing access and network permissions can quickly turn into a full-time job. Systems with built-in single sign-on authentication help organizations reduce administrative costs and complexity. Employees can access signage applications and resources using the same log-in credentials every time. This eliminates the need for organizations to manage separate usernames and passwords for their users.
Reporting
Enterprise-grade systems include reporting modules that provide valuable insight into system performance. A centralized reporting dashboard provides easy access to reports on the general status of your screens, devices and playlists, and what content is being played most often, at what times and on which screens. You can also monitor which users are accessing media players and what content they are uploading and publishing.
Analytics
The ability to collect data at or near the screen is becoming essential for measuring the value of signage solutions. Newer displays fitted with sensors, as well as existing IP security camera infrastructure, can enable the capture of data you can use to measure the results of advertising campaigns, understand traffic patterns, and identify peak business hours. Analysts say the use of sensors will also enable the next big trend in signage — gesture-recognition systems that allow more immersive, touchless interactions.
How SageNet Can Help
While the benefits of enterprise digital signage are well-established, it is not a do-it-yourself technology. Effectively implementing and maintaining a digital signage strategy requires someone with expertise in both advanced audio-visual systems and the underlying networking technologies that drive them. SageNet has the proficiency in both areas to help you develop a solution that will enhance the customer experience and meet your business objectives. Contact us to learn more.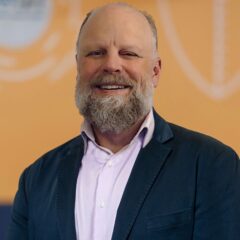 IV Dickson
Chief Innovation Officer
With digital signage, it's important to begin with the end in mind, then address each phase of the digital signage ecosystem – and lifecycle – to achieve the network operator's goals. Understanding the motivations for an organization makes it possible to pair them with the right technology at the right time.
Get to know IV
Interested in what our experts had to say?
Learn more about our services - all driven by the changing technology landscape.