Business Continuity, SageCONNECT
3 Business Use Cases for Mobile Satellite Service


Although cellular service is widely available, it still doesn't reach remote areas where it's impossible, impractical or not economically viable to place cell towers. Mountains, dense forests and even the curvature of the Earth can interfere with cellular signals, and service degrades the farther you are from a tower. In the event of a natural disaster or extreme weather event, cellular service can be put out of commission.
Satellite service doesn't have these problems. Because it relies on communication satellites in orbit around the Earth, satellite service is available in extremely remote areas. And because it doesn't rely upon land-based infrastructure, it offers a highly reliable means of communication when terrestrial services are unavailable.
Mobile satellite service can be particularly useful for organizations that need to ensure communications and connectivity. Transportable and vehicle-mounted satellite antennas can be set up quickly wherever service is needed and used to create mobile "hotspots" that support voice, video and data communications.
A Look at Mobile Satellite Units
Very Small Aperture Terminal (VSAT) technology provides a flexible and cost-efficient basis for mobile satellite service. The "very small" portion of the acronym refers to the size of the dish — typically, VSAT terminals use antennas that are typically 1.2 meters in diameter. VSAT antennas can be fixed, portable, vehicle-mounted or maritime-stabilized.
Portable units are often referred to as "flyaway" because the antenna and electronics are mounted in travel cases for easy transport and rapid deployment. Auto-point antennas can be operational in minutes. Most flyaway VSAT solutions are small enough to travel as checked airline luggage.
Vehicle-mounted antennas typically range in size from .75 meters to 1.2 meters, although larger dishes may be needed for video broadcast applications. Smaller units can be mounted on vehicles of almost any size. The ruggedized antennas are placed in "stow" position for transport then moved into "deploy" position for operation.
Mobile Satellite Applications
Mobile satellite services provide near-ubiquitous voice and data communications for organizations that operate in all areas, including those not covered by cellular networks. Quick-deploy setups are designed to establish satellite services rapidly in virtually any location. Common use cases include:
Remote field operations. Because mobile satellite services can provide communications to remote areas, they are ideal for organizations involved in oil and gas, petrochemicals, mining, and similar industries. Voice and data communications in the field are increasingly important in these sectors for monitoring and control of equipment and infrastructure, and access to applications and data for decision-making.
Emergency response. Emergency and disaster response personnel must have access to reliable communications, even when terrestrial infrastructure is damaged or destroyed. Voice service enables the coordination of rescue and recovery efforts, while video helps onsite responders collaborate with medical personnel and other experts. Internet connectivity provides access to critical data.
Business continuity. Organizations that cannot tolerate any business downtime can utilize mobile satellite for continuity of operations. If other communication services are disabled by disaster, accident or human error, mobile satellite can be used to provide a temporary WAN connection.
How SageNet Can Help
SageNet provides mobile satellite solutions that allow you to communicate anytime, anywhere and under any circumstances. We offer a wide range of satellite equipment options, including transportable and vehicle-mounted antennas to meet varying operational requirements. These solutions are backed by our 24×7 network operations centers, nationwide support network and more than 30 years of experience in high-speed, highly available connectivity. Contact us to learn about our affordable, always-on, part-time usage plans and fully managed voice, video and data services.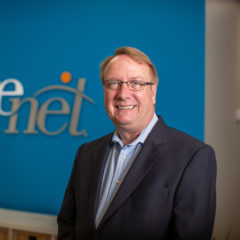 Scott Hutchinson
Director of Satellite Services
Companies are using VSAT technology in all kinds of ways. That's the exciting part of our focus right now – finding new markets and opportunities where satellite can be a benefit.
Get to know Scott
Interested in what our experts had to say?
Learn more about our services - all driven by the changing technology landscape.