How Electric Vehicle Charging Stations Can Energize C-Store Sales


Gasoline sales fueled the growth of the convenience store industry over the past 50 years. Can electric vehicle chargers provide a similar spark in the coming years?
The move toward self-service fueling in the 1970s supercharged c-store growth. In 1971, there were only about 11,000 c-stores nationwide and only about 700 of them sold fuel. In contrast, the roughly 150,000 c-stores operating today represent the country's dominant fueling source, accounting for approximately 80 percent of all gasoline sales in the U.S.
With increasing numbers of electric and hybrid vehicles on the road, many of the largest c-store operators are exploring investments in electric charging stations in order to maintain the ability to serve the traveling public. 7-Eleven, the largest convenience store operator in the U.S., recently announced plans to install 500 fast-charging ports at 250 locations across North America by the end of the year.
BP, which has c-stores across the U.S. and Europe, has plans to grow its global network of electric vehicle (EV) charging stations from around 11,000 today to more than 70,000 by 2030. The company further reports that its chargers have become nearly as profitable as its fuel pumps.
Changing Attitudes
Many c-store operators and truck stops see this as the ideal time to begin building the EV charging infrastructure. Consumer attitudes about electric vehicles have reached a tipping point, according to a new Ernst & Young consumer index survey in which 52 percent of respondents reported they are now actively looking to purchase an EV due to rising gas prices and environmental concerns. Meanwhile, Goldman Sachs analysts predict electric and hybrid vehicles will account for nearly half the cars on the road by 2040.
Like traditional gasoline sales, EV charging probably won't be a big money-maker. Gas sales represent nearly two-thirds of all c-store sales but only a minimal share of profits — most retailers only net about 2 cents per gallon. Charging fees won't deliver massive profits, either. In both cases, however, the real value is giving customers a reason to come onto the property and increasing the likelihood they will enter the store for additional purchases.
The Waiting Game
Charging an EV can be a time-consuming process, however. While the average gas tank fill-up only takes about two minutes, EV charging takes much longer. Even fast-charging units need about 20 minutes to deliver enough charge for 75 miles of driving range. Either way, that's way more time than you'd typically expect to spend at a convenience store. It's why analysts expect most EV owners to charge their vehicles at home, although they concede that apartment dwellers and travelers won't have access to home charging stations.
However, an extended charging time can be an opportunity to increase in-store sales — particularly food sales. For several years, c-store operators have been revamping their foodservice capabilities, offering hot, fresh and healthy meals in addition to the customary grab-and-go options. By continuing to expand in-store kitchens and seating areas, c-stores can lure customers with restaurant-quality dining options while they wait for their vehicle to charge. The longer those customers are inside your store, the greater the chance they will make additional purchases.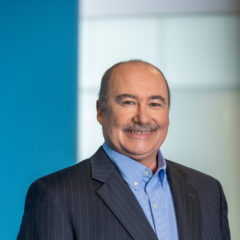 Scott Cheek
Vice President, Sales
The petroleum industry spends a lot of time developing standards for things like mobile payment, back office integration and smart safe integration. Over the last decade, I've become a translator between technology, marketing and operations.
Get to know Scott
Interested in what our experts had to say?
Learn more about our services - all driven by the changing technology landscape.