At Your Service: How Robots Enhance the Customer Experience


The manufacturing industry has long used collaborative robots — or cobots — that work alongside humans to assemble, inspect, package and move products. With continued advances in sensing and control frameworks, these machines can accomplish a variety of traditionally manual tasks with greater speed, precision and intelligence.
Those characteristics are driving increased adoption of robotics across a broad range of industries. Analysts say the global robotics market is growing by 22.8 percent annually and will reach a total value of nearly $215 billion by the end of the decade. By that time, robot encounters are likely to be commonplace in restaurants, grocery stores, hospitals and more.
Following is a brief look at how several industries are leveraging robotics to improve productivity, efficiency and safety, thereby enhancing the customer experience.
HOSPITALITY
Restaurants are increasing their use of cobots to prepare food with precision, consistency and reduced waste. Industry analysts say robots are particularly effective in quick-service restaurants where the recipes are highly standardized. Hotels are using bots for guest information, front desk services, concierge services, room service and more. Examples include:
White Castle uses robots with artificial intelligence (AI) to handle the fry stations at hundreds of its locations. The bots can fulfill about 60 orders per hour.
Chipotle Mexican Grill has begun outfitting some stores with robots trained to cook and season chips with salt and fresh lime juice according to an exact recipe.
Stellar Pizza is a robotics-powered mobile pizza restaurant created by a team of former SpaceX engineers. Orders are submitted via a smartphone app.
Many restaurant chains are using robots for such tasks as cleaning silverware and cooking utensils.
Hilton uses an AI-powered robot concierge called Connie to interact with guests and answer questions.
Robots that can detect weapons, read license plates and identify suspicious behaviors are enhancing security at airports, malls, parking lots and other public spaces.
HEALTHCARE
Robotics are already revolutionizing the way healthcare is delivered. In addition to relieving staff of many tedious manual tasks, bots are also directly administering patient care. Research shows robotic-assisted surgeries are done with smaller incisions, resulting in less pain, scarring, trauma and blood loss than other surgical procedures.
Cardiac surgeons with Yale New Haven Health system report they have completed 200 successful robotic-assisted mitral valve repairs.
The National Institute for Occupational Safety and Health estimates that about 6,000 surgical robots around the world performed more than a million operations last year.
Robotic exoskeletons can help rehabilitate patients who have suffered strokes or spinal cord injuries
Robots can help nurses and other health professionals with bedridden patients, reducing injuries caused by heavy lifting and allowing them to focus on delivering care.
Care robots can help nurses with routine tasks, such as checking temperature, pulse and blood pressure.
RETAIL
Retail operations are turning to robotics to address a variety of staffing, safety and customer experience issues. Approximately 150,000 mobile robots could be deployed in brick-and-mortar stores by 2025, according to a recent report from ABI Research. Here are some of the ways retailers are using the technology:
Autonomous mobile robots with high-resolution cameras, sensors and navigation systems can traverse aisles, scanning shelves to identify items that need to be restocked.
Robots can detect potential hazards such as spills, obstacles or potentially harmful debris.
In warehouses and distribution centers, robots are used to fill online orders, replenish racks and load or unload pallets.
Walmart uses a robot called Alphabot to pick and pack online orders. Unlike most solutions, it can pick chilled and frozen items. The system stores the items at the correct temperature until the customer or delivery driver arrives to pick up the order.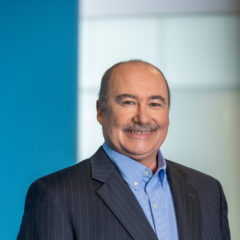 Scott Cheek
Vice President, Sales
The petroleum industry spends a lot of time developing standards for things like mobile payment, back office integration and smart safe integration. Over the last decade, I've become a translator between technology, marketing and operations.
Get to know Scott
Interested in what our experts had to say?
Learn more about our services - all driven by the changing technology landscape.