Business Continuity, SageCONNECT
How Satellite Opens the Door to Retail Success


Brick-and-mortar retail developments are typically built on reinforced concrete foundations. To be successful in today's retail climate, these stores also require a strong digital foundation.
Changing customer preferences have blurred some of the lines between the in-store and e-commerce shopping experience. While physical stores still account for nearly 85 percent of retail sales, customers have made it clear that they want the in-store experience to offer some of the same conveniences as online shopping.
As a result, retailers must ensure that a range of digital services are up and running by the time they launch a new location. Reliable Internet connectivity underpins most elements of the modern customer journey as well as most operational workflows. It enables point-of-sale systems, digital signage, in-store Wi-Fi connectivity, inventory tracking systems, on-demand video streaming, closed-circuit cameras and other key technologies.
However, there are often times when neither fixed-line nor cellular communications links are reliably available. In situations where damaged or non-existent Internet links threaten to delay or derail store openings, satellite connectivity solutions can get you back on track.
Making the Connection
Satellite has always been an effective connectivity alternative in areas where other options are not available. For example, many rural areas lack the last-mile infrastructure to connect with Internet service providers. Even cellular connections can be unreliable due to signal interference issues. In other instances, cable cuts, storms or other events may take wired and cellular systems offline.
Satellite solutions overcome those barriers. Since they receive and send signals via a satellite transponder orbiting the earth, they don't require terrestrial connections to transport voice or data. In fact, many portable, plug-and-play satellite solutions need little more than a power source to function.
Best of all, many satellite solutions can be provisioned and deployed at a moment's notice. Instead of waiting months for operators to lay cable or build cell towers to support terrestrial communication links, satellite terminals can be up and running with global network coverage in a matter of minutes.
Mobile options featuring "flyaway" satellite dishes and portable terminals are particularly useful for short-term applications requiring fast implementation and mobile connectivity. For retailers, this could include situations where cable cuts or other infrastructure damage threaten to delay openings.
Once terrestrial connections are established, the satellite system can provide backup communications, or it can be deployed at another store requiring emergency connectivity. Mobile satellite solutions can also be used to set up kiosks, pop-up stores or temporary locations in test markets without making a major infrastructure investment.
SageNet's Solutions
SageNet has deployment expertise with the most popular forms of satellite communications — VSAT (very small aperture terminal) and BGAN (broadband global area network). Either can be deployed rapidly to provide connectivity to support a range of needs.
VSAT solutions typically involve fixed antennas and provide high bandwidth connections for organizations that need to move lots of data to a high number of users. We also offer a more mobile "quick deploy" VSAT solution for situations requiring fast implementation. BGAN data rates are slower, but the terminals are lightweight, portable and extremely easy to set up. Terminals are roughly the size of a laptop, weigh only about 10 pounds, and can be installed by nontechnical users in minutes.
Brick-and-mortar retail operations today require a robust technology foundation to support changing customer and operational demands. Everything from payment-card processing to mobile purchasing depends on robust connectivity. When conventional fixed-line and cellular connections aren't available, satellite provides a highly effective alternative. Contact us to learn more about our satellite communication services.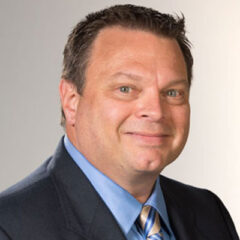 John Brader
Vice President and General Manager of Satellite Services
Satellite takes your network reliability from three 9's (99.97% to four 9s (99.99%). The added availability can be quantified down to the minute and translates to some serious savings and revenue for your organization. Newer satellite technologies are also coming with faster speeds and lower latencies. It's a game changer for an industry that had once been relegated to history books. Now, satellite can compete on speed as well as cost.
Get to know John
Interested in what our experts had to say?
Learn more about our services - all driven by the changing technology landscape.