How Electronic Shelf Labels Boost the Customer Experience


In a previous post, we discussed how retailers are leveraging digital signage to provide customers with an omnichannel experience that combines some of the best elements of in-store and online shopping. Electronic shelf label (ESL) systems are also bridging the gap between the physical and cyber shopping experience.
ESLs are digital wireless displays that are increasingly used as alternatives to the paper labels traditionally used to show product prices and information on store shelves. The battery-powered devices are typically connected to a store's point-of-sale and ERP systems, creating a networked system that enables retailers to dynamically update prices throughout a store using radio frequency or Bluetooth connections.
From a customer perspective, ESLs deliver a range of benefits typically associated with online shopping. For example, they allow shoppers to see pricing changes in real time, access in-depth product information from online sources, view product videos, download coupons, call for customer service and conduct self-checkouts with mobile payments.
Here are five key ways ESL systems benefit retailers and their customers:
Reduce costs. The ability to wirelessly update shelf labels eliminates the cost of printing paper tags and reduces the labor costs involved with manually changing hundreds or even thousands of labels. According to one study, ESL reduces the labor costs involved with label updates by up to 90 percent. Kroger, the largest U.S. supermarket operator by revenue, implemented ESL in 2019. The company reports that while it used to take up to two weeks to reprice a typical store by hand, it can now be done in as little as five minutes.
Eliminate errors. Manually updating labels is a notoriously error-prone process — 53 percent of shoppers say they often notice a difference between the displayed price of an item and what they are charged at the register. Because stores typically honor the lower price to preserve customer goodwill, such errors directly impact the bottom line. ESL systems reduce errors by allowing you to import data into label templates instead of manually typing text. One study found that digitizing the process increases accuracy by 87 percent.
Manage inventory. Two-way communication with back-end inventory management software improves visibility into current stock levels. Some ESL solutions use integrated cameras in "shelf watch" systems that alert staff when stock on shelves needs to be replenished. Additionally, ESLs can reduce waste by allowing retailers to quickly update prices on perishable items, encouraging shoppers to purchase them before they expire.
Fulfill orders faster. ESLs make it easier for store staff to fulfill online orders. The store's digital ordering system can generate the most efficient route for staff to follow when picking and packing orders. Flashing LED lights on the labels will guide the way. Some stores even assign specific colors to individual workers to make the process easier and faster. Instead of wandering aisles looking for items, workers look for labels flashing their assigned color. According to one study, alerting pickers to precise shelf locations reduced labor costs by 30 percent.
Enhance the customer experience. Integrated Near-Field Communications (NFC) and QR codes allow in-store customers to experience many of the benefits of online shopping. By enabling smartphones to communicate with ESL systems, NFC opens the door for shoppers to perform tap-and-go payments at checkout or use their devices to access product information. QR codes allow customers to easily access online product information, including specifications, instructions and use-by dates. Two-thirds of consumers surveyed by KPMG said that stores with ESLs provide a better customer experience than those without.
According to a recent report from Fortune Business Insights, the global ESL market is projected to reach $2.85 billion by 2028, exhibiting a CAGR of 20.8 percent during the forecast period. Give us a call to learn more about ESL systems and how they could improve your operations.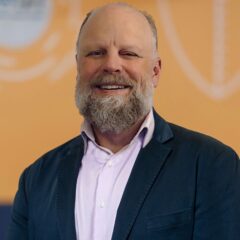 IV Dickson
Chief Innovation Officer
With digital signage, it's important to begin with the end in mind, then address each phase of the digital signage ecosystem – and lifecycle – to achieve the network operator's goals. Understanding the motivations for an organization makes it possible to pair them with the right technology at the right time.
Get to know IV
Interested in what our experts had to say?
Learn more about our services - all driven by the changing technology landscape.