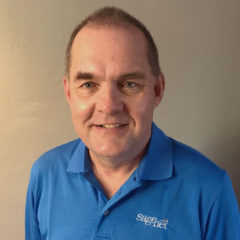 "As every industry develops ways to connect equipment to the Internet, you also have to find ways to safeguard the information they provide. Medical devices are regulated by the FDA, so you can't make changes to devices without approval – a process that can take months or years. You also can't patch the software without approval. As a result, these devices are on your network and not secure, so you need to find other ways to secure them. That's why it's important to work with a company like SageNet that understands how to develop smart solutions."
James Pratt brings a wealth of expertise in IT and healthcare technology to his work as an account executive in SageNet's network division. With years of experience securely connecting vital medical devices to each other and the Internet, he works with customers from a wide range of industries to develop innovative solutions for safeguarding increasingly connected networks.
Previous Experience
Oklahoma IT, Owner
As owner of this technology/IT firm, James helped numerous companies and state healthcare agencies manage their IT services. His work included acting as project manager for a two-year project to migrate all the agency's medical devices to isolated VLANs for security.
Intelemed, CEO
As head of this 15-employee IT company specializing in the installation of medical imaging networks for hospitals in 10 states, James worked with various hospitals and universities and was the project manager for the Oklahoma Telemedicine Network, a project that connected 65 hospitals over WAN that was subsequently incorporated into the state's ONENET network.
Jetrad, Co-Founder and CTO
James served as CTO of this company that developed software to manage teleradiology workflow at more than 60 remote hospitals throughout the Midwest.
Topics James can speak on
Networking
Creating secure networks
Securely connecting medical devices (imaging, CT, MRI, ultrasound, etc.) to each other and the Internet
Use of SCADA in the energy industry (especially exploration/production side)
Software development
James has extensive expertise in the following industries
We're passionate about Trusted Connections.
Learn more about our vision, mission, & core values.