Order the "Family Meal" for One. We're not Judging.
Your objective hasn't changed. You want to sell delicious food for affordable prices to hungry people. So give the people what they want – a 12-pack of tacos free of judgment, extra hot sauce.
At SageNet, we're eaters. We're also technology pros with 30+ years experience in c-stores. We understand the challenges to achieving your core restaurant objectives. And with our SageVIEW digital signage offering, we have solutions that allow you to concentrate on convenience while we take care of the tech.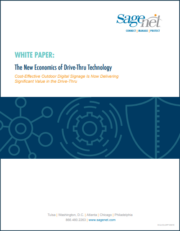 Download our White Paper
"The New Economics of Drive-thru Technology"
Why SageNet?
With our SageVIEW Digital Signage solution, we're able to help c-stores implement a managed digital experience that can improve:
The customer experience
Increase basket sizes
Simplify suggestive selling
Eliminate print costs
and more…
Rather type than talk? We have a form for that:
Let us help you leverage your wi-fi to create an environment customers feel comfortable coming back to. People are hungry for a change of scenery – be there to lend them a seat.



Don't feel like spending any more time on your computer? Dial 866.480.2263 We love a good lunch date