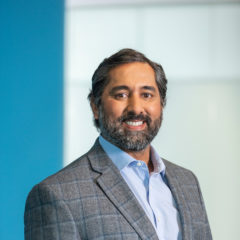 Director of Solutions Architecture
"My specialty is bringing it all together, whether you're building a network from scratch or integrating new services into an existing network. The goal is always to create a network that is as dynamic as possible."
Raj Multani has 15+ years of experience as a multi-discipline technology professional with broad experience in sales, managed network services and retail commercial networks. His deep understanding of network architecture gives him a unique perspective on the right way to build a dynamic network that maximizes value and takes advantage of the latest customer applications, emerging technologies and cloud-based services.
Previous Experience
Unified Communications Solutions Engineer for Siemens
As a solutions engineer for Siemens, Raj developed enterprise-wide Unified Communications (UC) systems built on the company's proprietary hardware.
Sales Engineer at MegaPath, Inc.
Raj worked for eight years as a sales engineer at MegaPath, building secure retail and commercial managed networks focusing on dedicated private networks with secure third-party integrations.
Topics Raj can speak on
Design and implementation of dynamic networks with integrated security, voice, Wi-Fi services and cloud-based solutions
Value-added network services for networks to operate efficiently and meet customer expectations
Trending Technologies in retail / hospitality markets
Cloud-based services (Cloud Computing and SaaS)
Industry Vertical Expertise
C-stores
QSR
Hospitality
Retail
Oil & Gas
We're passionate about Trusted Connections.
Learn more about our vision, mission, & core values.