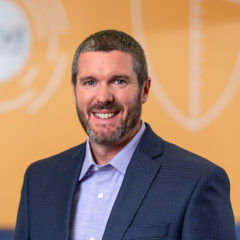 Chief Information Security Officer
"As our CISO, I have the opportunity to ensure we have the best cyber technology and services to simplify the lives of our customers as well as provide the most secure and compliant services possible."
As Chief Information Security Officer, Paul Truitt directs company-wide security technology services strategy. He is responsible for overseeing the cyber services delivery team in providing a full range of services including managed security operations services, cyber risk management, network security, penetration testing and consulting and professional services. In addition, he is responsible for providing integrated cyber services into every solution SageNet manages and deploys. He is also responsible for the corporate information security program to ensure the protection of SageNet's strategic information, assets, and infrastructure.
Prior to joining SageNet, Paul was the security leader for a large convenience store chain. Previously he served in senior leadership roles for consulting firms including Arthur Andersen and Deloitte. He holds a BS from Salisbury University, an MBA from Widener University and numerous industry certifications including Certified Information Systems Security Professional (CISSP), Certified Information Systems Auditor (CISA), Certified Information Security Manager (CISM), Certified Ethical Hacker (CEH), and Certified Hacking Forensic Investigator (CHFI).
We're passionate about Trusted Connections.
Learn more about our vision, mission, & core values.