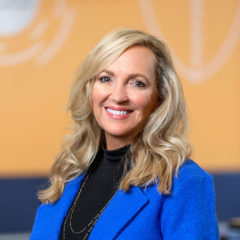 "As Vice President of Human Resources, I love having the opportunity to support, nurture and grow the people who help exceed our client's expectations; our employees (associates). Having influence across our entire organization to ensure our Core Values of Positive, Accountable, Connected and Excellent (PACE) are put into action – is extremely rewarding to me."
Christy Ptak is Vice President of Human Resources for SageNet. With more than 25 years' experience in Human Resources, Christy provides SageNet associates with strategic leadership in implementing organization-wide policies and practices that maximize productivity and performance. Passionate about people, she works to ensure SageNet's recruiting, onboarding, promotions and career development processes are the finest in the industry.
Christy is a graduate of Oklahoma State University. She is credentialed as a Senior Professional in Human Resources (SPHR), issued by the Human Resource Certification Institute (HRCI), and also carries the designation of Senior Certified Professional (SCP) in conjunction with the Society for Human Resource Management (SHRM).  Christy has held a number of volunteer positions on both the State Council (OKHR) and the Tulsa Area Human Resources Association (TAHRA) Boards.
We're passionate about Trusted Connections.
Learn more about our vision, mission, & core values.