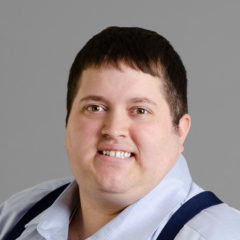 Principal Architect, Wi-Fi & IoT
"A lot of companies with smaller IT teams need assistance from experts who understand technology and how to deploy it, how Wi-Fi works and how to improve what they offer. We do everything we can to design a guest experience that is reliable, easy to use and valuable – to the end-user as well as the company that's providing it."
Alex Jinks is a versatile Solution Engineer with 10 years of industry experience who works with customers to identify and resolve challenges within their networks. He has extensive experience in the hospitality, retail, travel and QSR industries leading and implementing large-scale deployments of IoT and Wi-Fi solutions across thousands of customer sites nationwide.
Topics Alex can speak on:
The convergence of Wi-Fi and IoT
Onboarding all types of systems
Using captive portal and AAA authentication systems to control device access to network
General retail use of Wi-Fi and IoT

Bringing in more IoT devices online and making sure they're secure
(from cameras and POS systems to coffee machines)

Up-and-coming Wi-Fi issues
Additional Experience:
Member, Atlanta Technology Professionals (ATP) Association
Certified Meraki Networking Associate (CMNA)
Engineering Cisco Meraki Solutions Part 1 & 2 (ECMS1/2) Training
Certified Cradlepoint Sales Associate
Fortinet NSE 1, 2 & 3 Security Associate
Certified D-Link Switching and Wireless Specialist
We're passionate about Trusted Connections.
Learn more about our vision, mission, & core values.